Custom Screens For Qatar 2022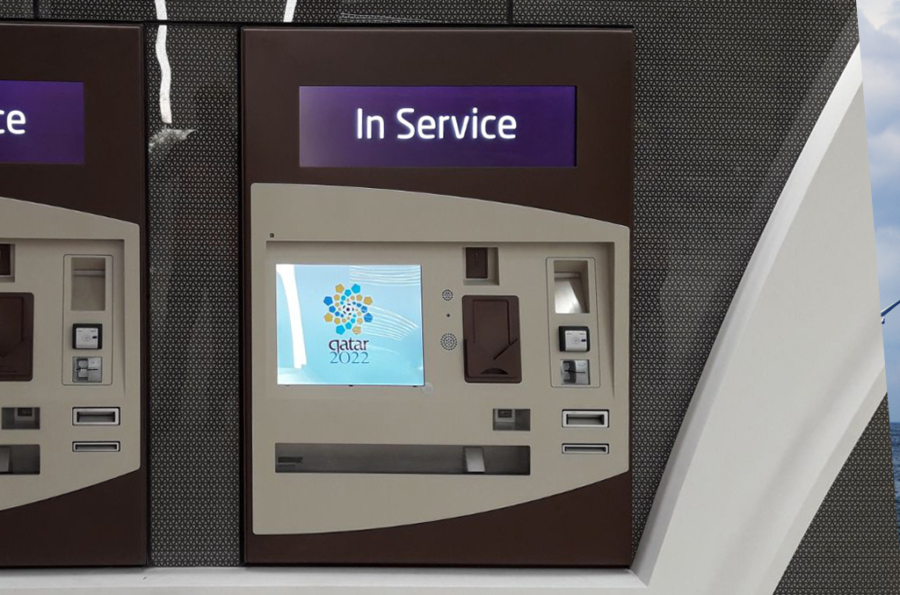 Qatar is hosting the football World Cup in 2022. As part of the ongoing development preparing Qatar for 2022, a city-wide public transport system including a new subway is being built. Ticketing machines for transport will need to handle the high footfall as well as the challenges of the local environment. 1.5 million visitors are expected in Qatar over the duration of the World Cup and the environment will be subject to high temperatures and bright sunlight.
Assured has been working with a partner in developing the ticketing machines for Qatar 2022. The machines incorporate a stretched bar LCD display as well as touchscreen monitor for customers to manually choose options for their ticket purchases. The machines will be positioned indoors and outdoors, so the screens must be high bright for sunlight readability. Optical bonding is needed for greater touch accuracy, physical durability, condensation prevention and increased sunlight readability (read about optical bonding here). They must also be able to operate in wide temperature ranges to cope with the Qatar heat. A variety of sized ticketing machines are being made so the screens provided must be equally as resilient in a range of sizes.
The Stretched Display
The customer had already tried using an alternative 29 inch stretched chassis mount display and subsequently designed the machine housing around the stretched display dimensions. Upon testing, the initial screen didn't provide sufficient brightness and therefore a suitable replacement of the exact same dimensions was needed. Assured was contacted and able to use in-house design and our excellent relationship with Litemax to devise custom chassis mount housing around an existing extremely bright 29 inch stretched display. The resulting unit was then able to marry with the ticket machine extrusion perfectly. View our range of cut LCD Panels whilst custom options can be requested by contacting us.
IK-10 Touchscreen Monitor
Assured worked with manufacturers to produce a 17 inch and a 19 inch, high-bright, touchscreen open frame monitor with features to strengthen the screen to IK-10 certification (the official standardisation to make a screen vandal proof). For the outdoor ticketing machines, screens were also made to operate in extreme temperature ranges of -30° to +80° C. As part of Assured Systems custom design service, the handling of testing and certification was all done by Assured. View our range of open frame touchscreen displays here.
About Assured Systems
Assured Systems integrate digital signage solutions all over the world with a speciality in complex technical and security dependent environments such as banks and transport environments. We thoroughly understand our products, our customers, their markets, and the applications in which our systems are being deployed. If you have an application you would like to discuss, please contact us and we will be happy to help.